Întrebuinţări industriale

Asamblare

Coboţii noştri pot îmbunătăţi randamentul şi constanţa operaţiunilor de asamblare repetitive sau complexe – de exemplu îmbinarea sau inserarea componentelor şi schimbarea uneltelor – şi pot lucra alături de oameni. Printre operaţiunile de asamblare se numără asamblarea componentelor, inserarea componentelor, înşurubarea şi dozarea distribuită.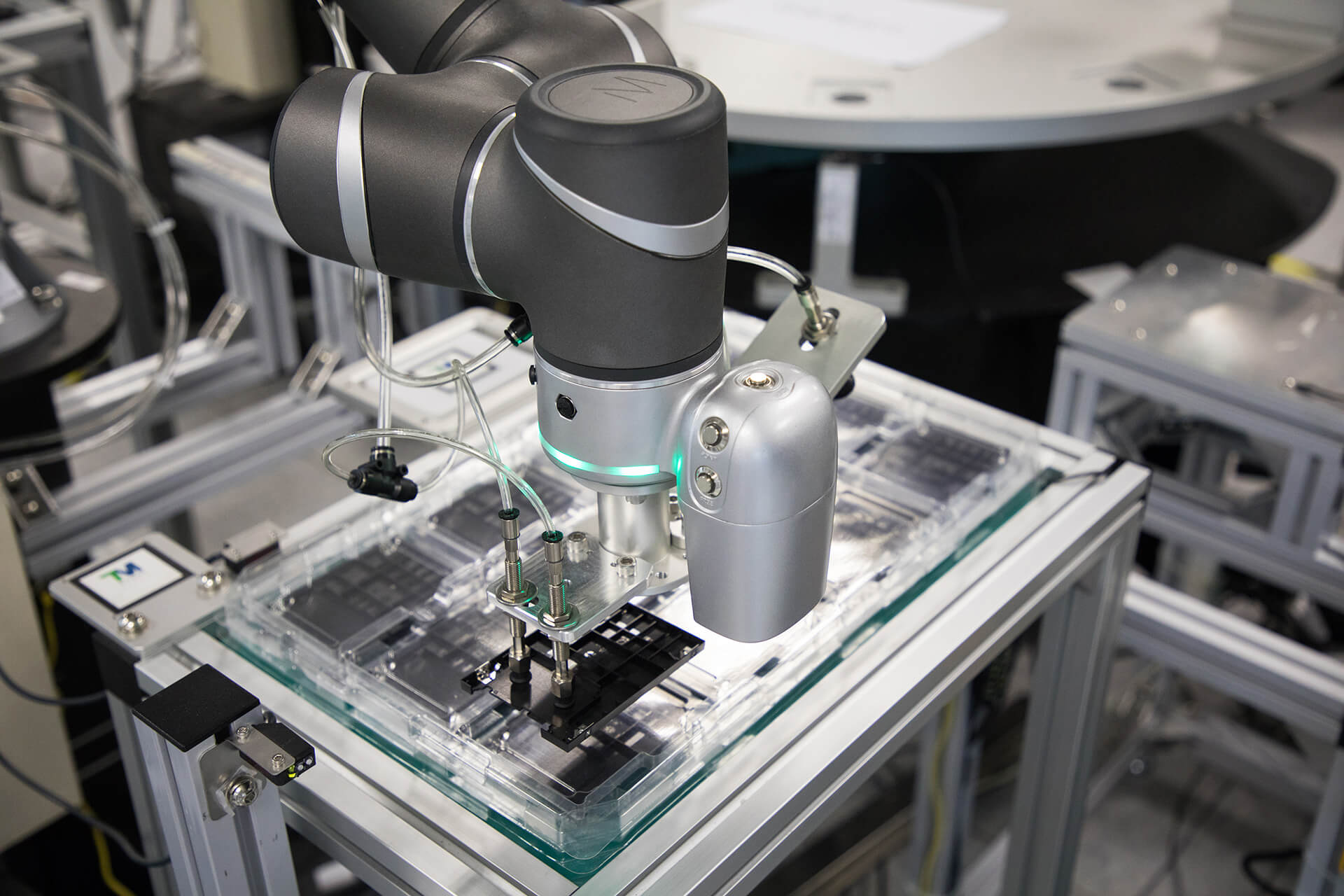 Precise and consistent assembly of magnets and coatings with a cobot for the automotive market
LITMAT, a company with over 70 years of experience in supplying components for the automotive industry, has recently introduced the OMRON TM5 cobot within its magnet assembly plant on metal oil drain plugs. The goal of the solution is to simplify the process of assembling the magnets that are necessary to attract any impurities in oil. The cobot takes care of the complete process, from applying the glue, inserting the magnets in the plugs and the verification of the amount of glue applied with the integrated camera. All data is managed centrally by an OMRON NX102 PLC, which can be connected to the MES for integrated supervision of the entire production cycle in real time. At the terminal (OMRON NB Series 7'') the operator can see the information related to processed pieces, types, rejected pieces, causes of stoppage as well as timing, and modify all the parameters relating to the formats if necessary, such as ​​height of the cap, magnet and magnetization. All these variables are supplied to the cobot, which then proceeds with the machining according to the quotas assigned for each different piece to be assembled, without expensive tooling operations. Like all OMRON cobots, even the OMRON TM5 installed in LITMAT can operate in the presence of personnel. Two barriers equipped with a safety module are connected to the PLC and allow the OMRON TM5 to enter collaborative mode. In this way, the employees in charge of sorting the magnets in boxes can work without any risk close to the automated area. Overall, the solution enables LITMAT to assemble approximately 180 caps per hour for a total of 1500 pieces in each 8-hour shift. All with unparalleled consistency: the cobot always exerts the same pressure on the plug, ensuring repeatability and consistent quality. About LITMAT S.p.A. LITMAT S.p.A. is specialized in the manufacturing of metal threaded plugs that are supplied mainly to the automotive industry (oil drain plugs) and to manufacturers of hydraulic, pneumatic, hydronic and mechanical equipment. They are the largest Italian manufacturer in this field, making a full line of plugs, in different materials (steel, brass, aluminium), according to various national standards (DIN, SAE, UNI, etc…), with any thread (metric, english or other), cylindrical and taper. LITMAT also manufactures many different types of magnetic plugs and we can make almost any plug according to the client's specifications or drawing. LITMAT S.p.A. is particularly competitive in the international market in the production of cold formed steel plugs according to DIN 906, 908, 909 and 910 and special plugs according to customers' drawings. Since 1950 LITMAT S.p.A. has been O.E. supplier of the most important automobile and truck manufacturers in Italy for all drain and fill plugs in the oil pan, gear box and differential. Many of the most important manufacturers of mechanical components (axles, gear boxes, pumps, etc…) for the automotive and industrial vehicle sectors and many important fastener dealers in Europe are in the list of their clients. About OMRON Electronics S.p.A. OMRON Corporation is one of the world leaders in automation and its work is based on the core technology "Sensing & Control + Think". Established in 1933, OMRON has approximately 30,000 employees worldwide and offers products and services in approximately 120 countries and regions. OMRON operates in various sectors, including industrial automation, electronic components, systems for social infrastructures and solutions for healthcare and the environment. In the industrial automation sector, OMRON supports innovation in the manufacturing sector by proposing advanced automation products and technologies, as well as through widespread customer assistance, with the aim of contributing to the improvement of society. A complete range of machine automation, 200,000 input, logic, output, robot and safety devices make OMRON one of the 2,000 largest companies in the world according to Forbes, listed on NASDAQ and a top spot in the Dow Jones Sustainability Index and for the fifth consecutive time among the "Top 100 Global Innovators" of the world selected by Clarivate Analytics. Integrated Automation: Achieve seamless integration of technology through advanced control Intelligent Automation: Transforming factory data into valuable information Interactive Automation: Create a harmonious interaction between humans and machines
03 Iunie 2021 Roboţii colaborativi (coboţii) se folosesc la scară tot mai mare, în diverse sectoare industriale şi în cadrul unei game vaste de aplicaţii. Aceştia pot influenţa semnificativ eficienţa şi productivitatea ciclului de producţie. Una dintre companiile care beneficiază de asemenea avantaje este LITMAT SpA.
citiţi mai mult